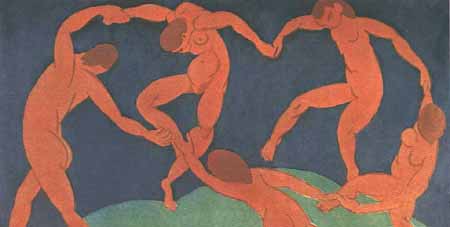 Dance
1910; Oil on canvas, 8' 5 5/8" x 12' 9 1/2" The Hermitage, Leningrad

The mural size of this painting was inevitable, given the expanded scale Matisse was moving towards. The painting may be interpreted as anti-cubism, demonstrating how figures can be linked with rhythm and color against a contrasting background, instead of binding together figures through arbitrary overlaps and plane deformations.
The hands on the figure on the left and the figure in the foreground create a tension referring to Michelangelo's "Creation of Man". Also the dances themselves reach back to antiquity in images on the "Three Graces".




Best Dating Sites: Browse Personals Today!


---