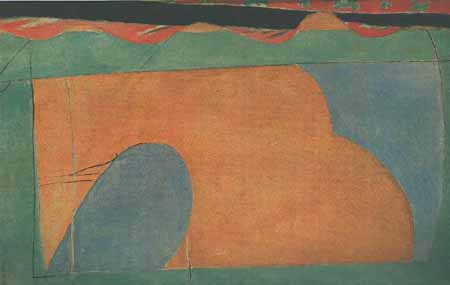 Composition: the Yellow Curtain
1914; Oil on canvas, 57 1/2" x 38 1/4" Collection Marcel Mabille, Brussels

This is one of the climatic instances of Matisse's treatment of a view through an open window. The picture presents a daringly abstract landscape and frame, which are in contrast to a relatively realistic handling of the curtain to the left. The green areas of architectural border are so flatly treated that the landscape beyond becomes almost literally a picture within a picture. The curtain is actually red with a green floral pattern, and its reverse side is yellow where it has fluttered back into the room, perhaps as the result of a breeze. It's yellow is nearly identical to the yellow-ocher ground of the landscape, a broad, flatly painted area that vibrates against two areas of blue.






Best Dating Sites: Browse Personals Today!


---